5.-20. september 2014
Regina Möller, Vladan Jeremic and Rena Rädle, Levanger Kino Group / Nomeda Urbonas, Edvine Larssen, Cathrine Dahl and Ørjan Aas, Karianne Stensland, RAKE  Kurator: Anne-Gro Erikstad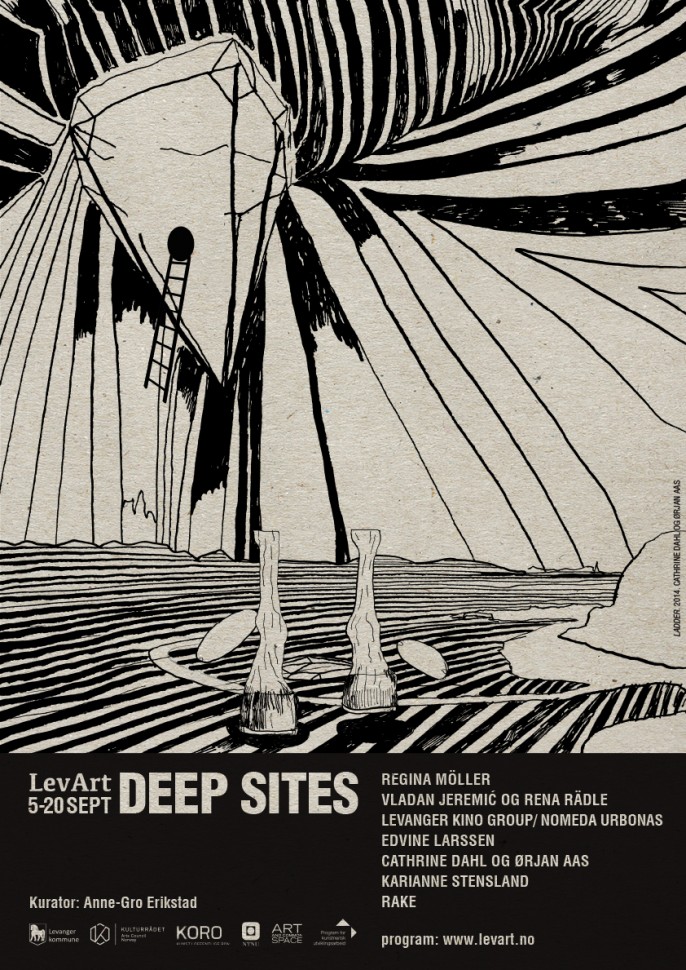 Deep Sites er en utstilling i form av en serie kunstneriske intervensjoner i det historiske kulturmiljøet i Levanger. I perioden 5.-20. september presenteres nye arbeider av sju kunstnere og kunstnersamarbeid på ulike steder i byen. På programmet står også kunstnersamtaler, filmvisninger og møter mellom publikum, kunstnere og andre aktører. I Deep Sites trer byen frem som et sted der fortid og nåtid, ettertanke og konfrontasjon, felles arenaer og rom som til vanlig er lite synlige filtres sammen. Et sted rikt på potensiale, der nye visjoner og politiske ideer og løsninger utviklet i tidligere tider (re-) aktualiseres i lys av dagens utfordringer og økologiske og økonomiske kriser.
Levanger sentrum, som på 50- og 60-tallet enda var et aktivt handelssentrum er i dag preget av næringsflukt. Mange av de gamle butikklokalene står tomme og er merket av forfall, og en viss melankoli har preget byen de siste årene. Bygningsmassen i trehusbyen er nå under fredning av Riksantikvaren og har blitt vurdert til å være kulturmiljø av nasjonal interesse forankret i den norske kulturminneloven. Dette har brakt en viss optimisme og fremtidstro tilbake til byen.
I følge §2 i kulturminneloven viser begrepet "kulturmiljø" til "områder hvor kulturminner inngår som del av en større helhet eller sammenheng". Kulturmiljøet gir altså sammenhengen som enkeltobjekter går inn i. Når kulturmiljøet har kulturminner fra ulike tidsperioder sier man at det har "tidsdybde". Tittelen Deep Sites, viser til steder som har tidsdybde, men uttrykket er også beslektet med the deep web, nettsider som ikke er tilgjengelige ved konvensjonelle søk.
Kulturarv produseres i dag av økonomiske, politiske eller kulturelle grunner. I en tid når historie og kulturarv hypes, ønsker Deep Sites å undersøke "kulturmiljøet Levanger sentrum" som et sted som har en "dyp" historie – lag av mening og stillheter, og som et imaginært og agonistisk sted; byen som kulturarv.
Program
Levels of Precarity,  Jesper Alvær, Vladan Jeremić og Rena Rädle i samtale med Marius Aasprong, 4. September 19.00, Bar Moskus, Trondheim
Red Winter av Vladan Jeremić og Rena Rädle, en kunstnerisk intervensjon med taler, bannere og avis, åpningsevent lørdag 6. september, 12.00 – 13.15  Levanger torg, åpent 6-20 Sept 10.00 – 19.00
Kunstnersamtale: Vladan Jeremić og Rena Rädle i samtale med Anne-Gro Erikstad, visning av filmene The Housing Question av Vladan Jeremić og Rena Rädle, og Konkret av Jesper Alvær, lørdag 6. September: 15.00 – 17.00. Levanger rådhus, øvre glassgård.
The Silent Speaker – en trilogi av Regina Maria Möller. Part One: The Curtain, Kirkegata 34, Levanger,  6.-20. September

At Any Given Moment av Edvine Larssen (NB! Larssens verk er tilgjengelig 7.9 – 20.09.14 for kun en besøkende av gangen ved påmelding. Book via booking systemet. Du kan også booke via e-post  atanygivenmoment.levanger@gmail.com eller på telefon 90834643. Samtale og finissage åpent for alle, 20 September kl 17.30, Sjøgata 8.
Sub City av Cathrine Dahl og Ørjan Aas, et plakatprosjekt som presenteres i og utenfor Levanger rådhus, fra 15 September.  Sunrise og Ladder av kunstnerne presenteres som frontbilde på webben og som posterbilde til prosjektet. 
Levanger Kino Project  av Levanger Kino group/Nomeda Urbonas, Festiviteten Kulturhus & Kino, Kirkegt. 18, Levanger, 19 September kl. 19.30
Komposisjon for maskin og skulptur, en performance av Karianne Stensland, Levanger Stadion, 19. September kl 21.00.
RAKE – Emilies hus Innflyttingsfest, 19. September kl 21.30.
Deep Sites Prosjektkontor, Levanger rådhus, øvre glassgård. 19. september 11.00-17.00 / 20. september 11.00- 15.00 visning av filmene The Housing Question, The Housing Agenda og Belleville av Vladan Jeremic og Rena Rädle og Konkret av Jesper Alvær.
Ta gjerne kontakt med kurator Anne-Gro Erikstad for mer informasjon; +47 45636287
Takk til:
Arild Bye, Morten Skaufel, Sivert Geir Løvås, Bymuseet i Levanger, Festiviteten Kino og Kulturhus, Levanger kommune; Bygg- og Eiendom, Kommunalteknikk og Drift og Anlegg, Levanger Museum, Coop Mega, Levanger, Per Anker Johansen
Grafisk design: Joana Bruno