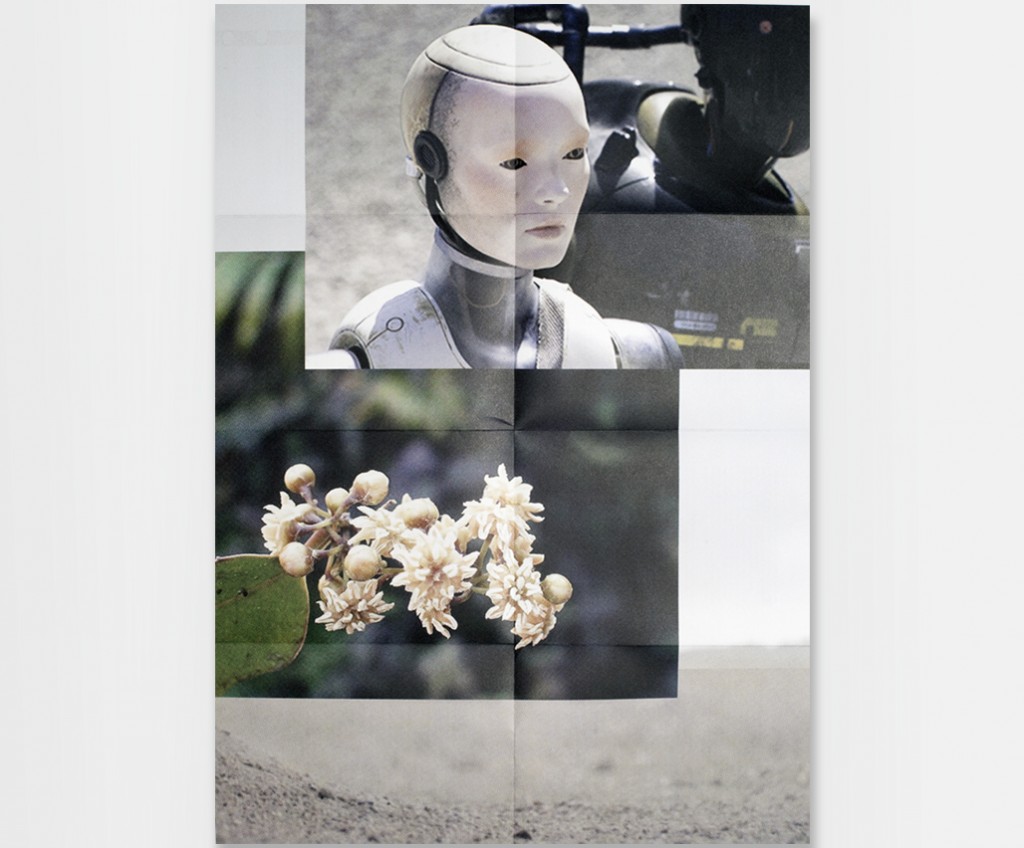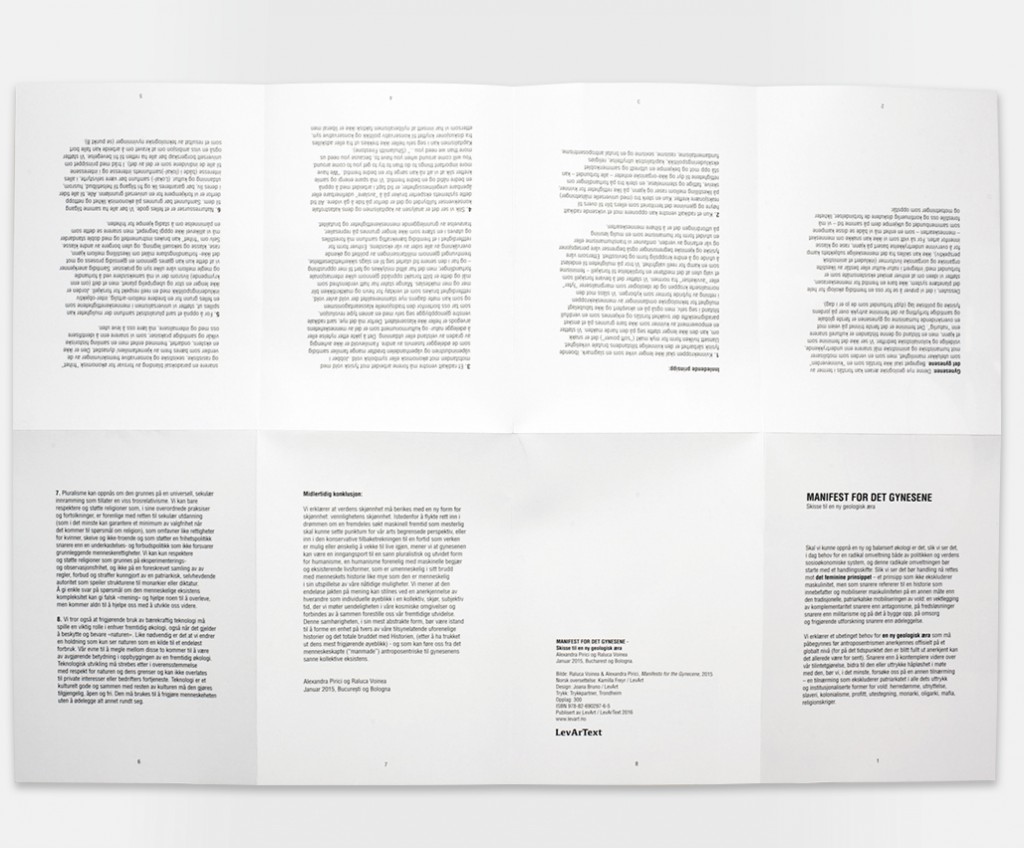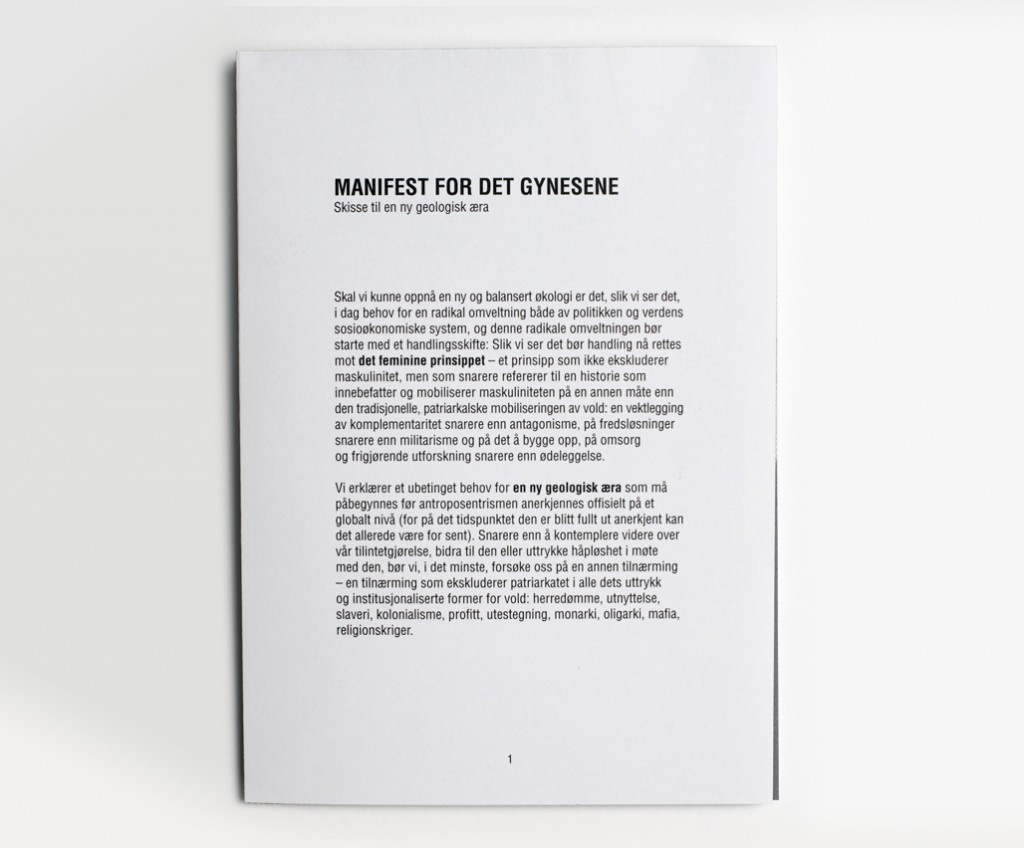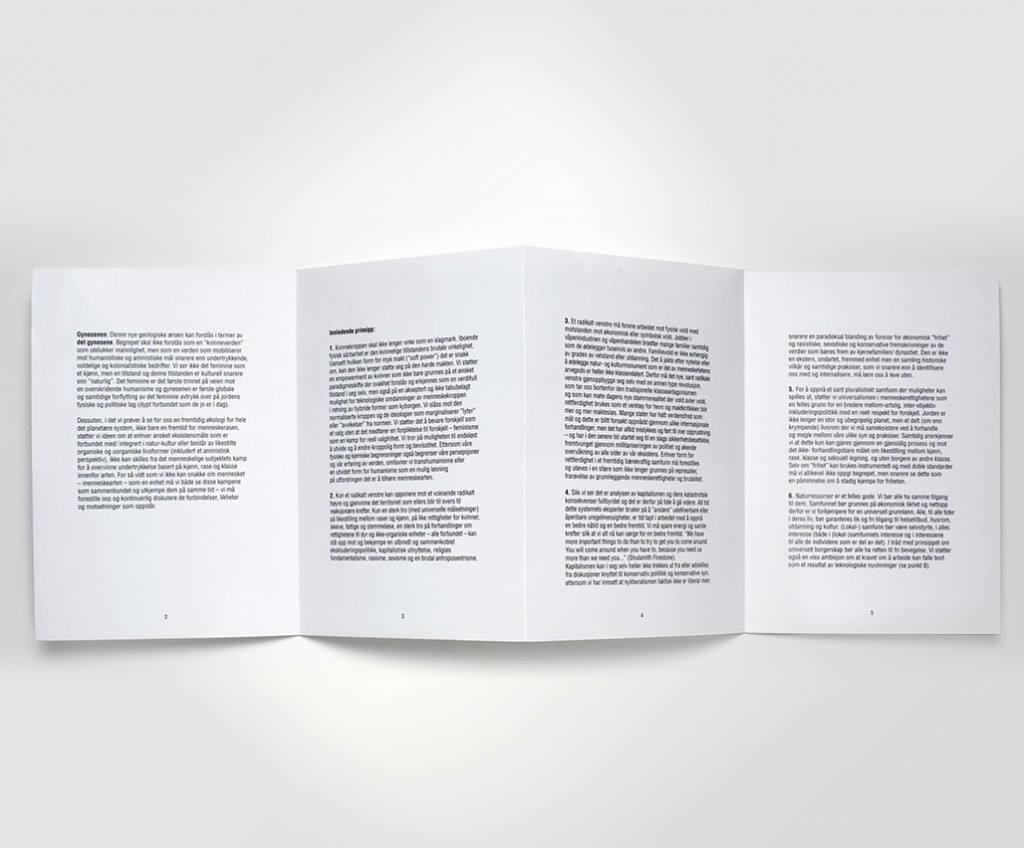 NOK 40,- (English or Norwegian text)

At a time when reactionary forces offers a dark and dystopian vision of the world, this manifesto proposes a different agency – one that takes the feminine principle as a starting point for imagining a common future: This new geological era can be thought of as the Gynecene. Understanding the term does not mean thinking of a "women's world" which excludes virility but as a world which mobilizes it towards humanist and animist goals rather than oppressive, violent and colonial enterprises.
«Manifesto for the Gynecene – Sketch for a New Geological Era» was co-authored by artist Alexandra Pirici and curator Raluca Voinea in 2015. The Manifesto, circulating online and in various magazines, was translated so far into German, Swedish, Romanian, Hungarian, Spanish, Finnish and Norwegian. It was published in the book dea ex machina, Merve Verlag, Berlin, 2015 and was featured in the exhibition Enjoy Your Struggles, curated by Katalin ERDŐDI and Zsuzsi FLOHR at FKSE gallery in Budapest, 2016. It was also the starting point for the 2-days discursive event New Solidarities, organized as part of Baltic Art Circle festival, 2016, Helsinki, curated by Satu Herrala.  LevArText published and translated the manifesto into Norwegian in 2016. The manifest is translated to Norwegian by Art historian Kamilla Freyr. 
Alexandra Pirici (b. 1982, Bucharest, Romania) has a background in choreography, and works across different mediums as visual art, music and film. Together with the artist Manuel Pelmus, Pirici presented Romania at the 55th edition of the Venice Biennale in 2013 with the work An Immaterial Retrospective of the Venice Biennale. Pirici contributed with sculptural interventions and projects for Manifesta 10 in 2014. Her works has been presented for example at Centre Pompidou, Paris (2014) and GfZK Leipzig, Germany (2013) and Hebbel am Ufer, Berlin, Germany (2012).
Raluca Voinea is curator and art critic, based in Bucharest. Since 2012 she is co-director of tranzit.ro Association (a member of the tranzit.org network and a network in itself, with permanent spaces in Bucharest, Cluj and Iasi and an annual project in Sibiu) and she runs the space of tranzit.ro in Bucharest. The space includes an art gallery, a communitarian garden and an Orangery (a space for hosting fragile plants and ideas), all developed organically and in response to both the local context and the general, global situation.
Since 2008 she is co-editor of IDEA arts + society magazine and since 2012 the coordinator of the (Exhibitions) collection published by IDEA Publishing House. In 2013 Raluca Voinea was the curator of the Romanian Pavilion at the 55th Venice Biennale with the project "An Immaterial Retrospective of the Venice Biennale" by artists Alexandra Pirici and Manuel Pelmuş.
Currently she is on a research residency in Norway, in the frame of the project "A Pendaflex for the Future – a curatorial research project into the exhibition archive at Henie Onstad Kunstsenter", curated by Milena Høgsberg.
Manifesto for the Gynecene – Sketch of a New Geological Era /Alexandra Pirici and Raluca Voinea, 2015.
Image: Raluca Voinea & Alexandra Pirici, Manifesto for the Gynecene, 2015
Design: Joana Bruno / LevArt
Print: Trykkpartner, Trondheim
Edition: 300 copies
ISBN 978-82-690297-5-8
Published by LevArt /LevArText