1 – 4 March 2023
A short film program curated by Amanda Fayant and Monica Mecsei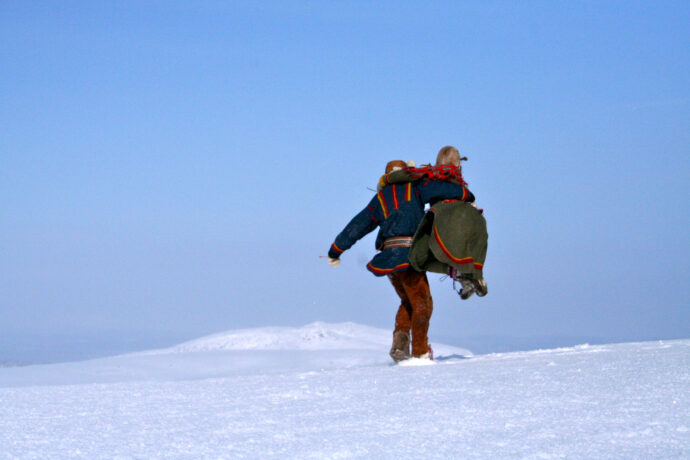 Still image from "The wind whispers there is someone behind the tundra / Biegga savkala duoddara duohken lea soames" (Elle Sofe Sara, 2007)
Wednesday 1 March: opening at 19.00-20.00 ( Hot soup and drinks will be served )
Thursday 2. March: 12.00-18.00 (last film screening starts at 17.00)
Friday 3. March: 12.00-18.00 (last film screening starts at 17.00)
Saturday 4. March: 12.00-16.00 (last film screening starts at 15.00)
Saturday 4 March: 13.00 ( in the cafe )
Curators talk with Amanda Fayant and Monica Mecsei.
The event is free and open to everyone!
Art and culture have long been an important part of the Sámi population and indigenous peoples all over the world's struggle to make visible their own history and traditions. In the last 10-15 years, indigenous film has seen remarkable growth and progress. Monica Mecsei and Amanda Fayant have put together a program consisting of six short films that highlight different aspects of land and identity. The films provide an insight into important questions about how one can process and heal deep cultural wounds from the past and at the same time carry one's identity with pride.
The films from Turtle Island* touch on painful events from Canada's colonial history. The dance film, based on an idea by Lacy Morin-Desjarlais, is a tribute to the children who died as a result of the poor treatment they received at the boarding school Regina Indian Industrial Schools in Regina, Saskatchewan (1891 -1910), a story that shocked a whole world when it became known. Tasha Hubbard's short documentary about the last herd of buffalo ( bison ) to survive the slaughter in the 19th century, uses animation and a specially designed soundscape to bring the story to life. First Nations filmmaker Caroline Monnet takes us on a journey from the far north to the urban south in the short film «Mobilize», capturing the perpetual negotiations between the traditional and the modern  by a people moving ever forward. The films from Sápmi also link past and present in multiple ways. They show the diversity of Sámi culture, and give an insight into traditions that may not be so well known. Elle Sofe Sara is a choreographer, director and filmmaker. Her two films show deep embodied experiences presented in playful and experimental storytelling. Director Egil Pedersen is a veteran and will in 2023 debut as a screenwriter for the first Sámi feature film for youth ever. «Portraits from Varangerfjord» is beautiful and charming, and depict Coastal Sámi culture, philosophy and way of life in today's Norway.
Monica Mecsei has worked at NTNU with Sámi film for over ten years. She is particularly concerned with how film creates historical and cultural meeting points that weave together past and present.
Amanda Fayant is a Cree/Métis/Saulteaux artist, writer and speaker based in Trondheim, Norway. Amanda is originally from Regina, Saskatchewan, Canada, Treaty 4 country. Amanda's art practice deals with themes of identity, exploring Indigenous feminisms and confronting the impacts of colonial history in Canada.
*Turtle Island is a name for the earth or North America, used by some Indigenous peoples. The name is based on a common North American Indigenous creation story and is in some cultures synonymous with "North America". 
The film program is supported by Koro and the Norwegian Culture Fund, and is part of the art project Giltebe!
Giltebe! celebrates the official Southern Sámi name Levangke ( Levanger), and at the same time marks the ten years since the art project Dalvedh* Research Station # Levanger with artist Sissel M. Bergh and musician and composer Frode Fjellheim. ( Stay tuned, more information to come! )