23 May 18.30
Kantinekino, Prerna Bishnoi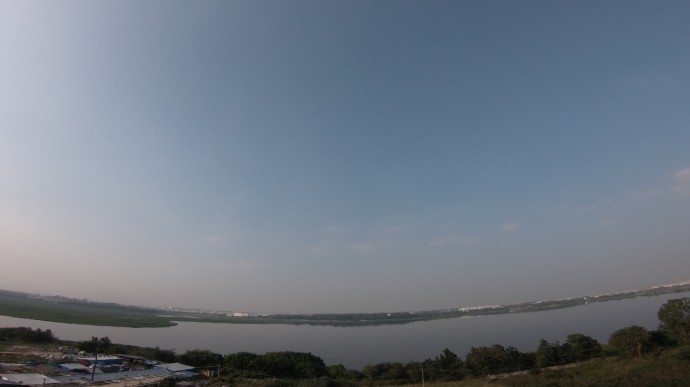 Video still, Bellandur Lake from Sobha Lavender Apartments, Bangalore, Prerna Bishnoi.
In collaboration with LevArt, Kantinekino has the pleasure of presenting "Surface Tensions" by Prerna Bishnoi. We invite you to an evening with a bus trip through the Trønder landscape, great art, amazing food and interesting conversations. Come with us to Levanger!
The bus leaves at 16:30 from Strandveien 33 (Trondheim) to LevArt (Levanger), and drives back again at xx:xx. The bus trip is free, but you have to book your seat in advance. Do so by sending Kantinekino a message on Facebook or an email to: liljedahlt@gmail.com
"Surface Tension" is one part of an ongoing film project around the toxic "lake" system – an infrastructure of inter-connected man-made tanks – starting with the infamous Bellandur and Varthur lakes, in Bangalore, India. This project takes place post the spectacle of the foaming and burning of the lakes that was widely disseminated by national and international media.
The project makes an effort to recognize this infrastructural landscape as a space of flows, to map the topography around the "lake" and to inquire into how ecosystems (humans included) dissolve and retain toxins while still performing resilience and resistance to toxicity. The hope is to propose new relations to this commons – a gesture towards activists, scientists, urban planners, and governing bodies to re-imagine the narrative of development of the city around this infrastructure.
"Surface Tension" is the experience of walking around Bellandur Lake. Or rather, walking around Bellandur Lake, navigating a "frothic city",[1] is an experience of surface tension. This walk, a circumnavigation, is incomplete. Below is a map of the segment that I have walked so far and will continue the rest on my visit back in July.
The footage collected and created during this segment of the walk will be uploaded to PADMA (www.pad.ma Public Access Digital Media Archive) and annotated. The annotations will inform, "as is" and speculate "as if", in the attempt to create a glossary of the narrative of development around the commons, in its current state of transition: churning. This is also an exercise to develop a script for the next round of filming around Varthur Lake in July-Aug 2018.
[1] Gupte, Rupali, Shetty, Prasad, Mehrotra, Rahul. Frothing Urbanism: Urban Conditions in India. Arch+. (2010)
—
Prerna Bishnoi is an artist, filmmaker and researcher currently residing in Trondheim, Norway. She completed her MFA from Trondheim Academy of Fine Art and now works as a project coordinator and artist researcher at LevArt. She makes videos, sound pieces, workshops, and games and writes texts, often in collaboration. She locates herself with/in agonistic public spaces, struggles of commoning and the social architecture of institutions.
Kantinekino is a mobile space for presentations of art video and film, run by artists Lena Katrine Sokki and Tobias Liljedahl. During the last year, Kantinekino has evolved from being regular screenings at RAKE arbeidsfellesskap (Trondheim) to larger projects in collaboration with other artists and institutions.
Project Credits: Research for this project has been conducted in collaboration with artist, Sindhu Thirumalaisamy. Some theoretical concepts have been borrowed from her individual research and writings, for which I am grateful. Many thanks to Namrata Mehta, Tejas Pande, Tanvee Nabar, Akankshi & Shubhangi Goel and Gayatri Ganju.