5-20 September 2014
Regina Möller, Vladan Jeremic and Rena Rädle, Levanger Kino Group / Nomeda Urbonas, Edvine Larssen, Cathrine Dahl and Ørjan Aas, Karianne Stensland, RAKE Curator: Anne-Gro Erikstad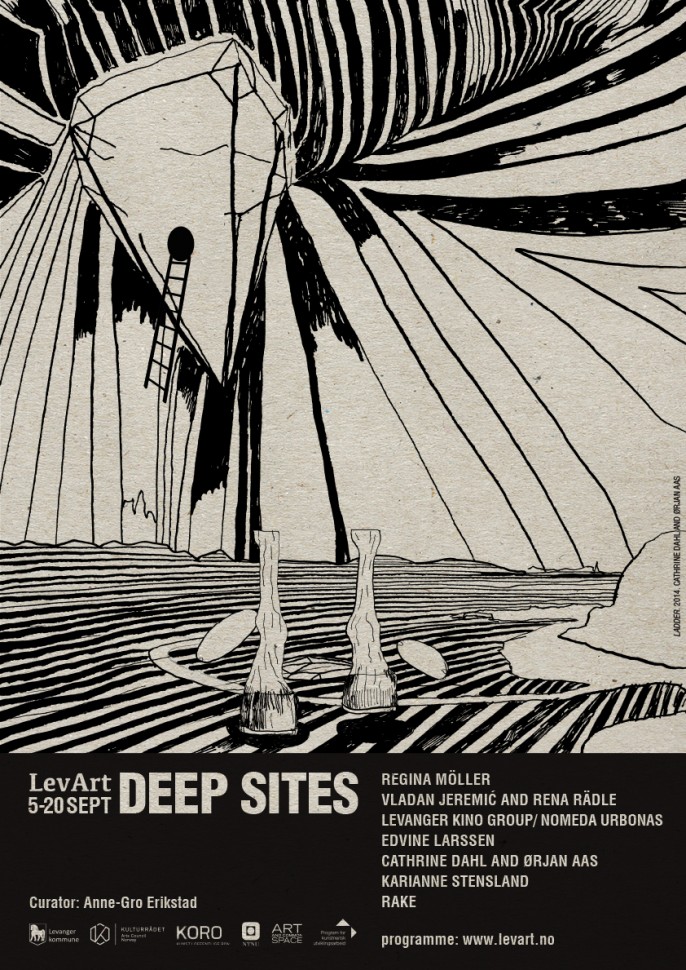 Deep Sites is an exhibition in the form of a series of artistic interventions in the historic cultural environment of Levanger. From 5 to 20 September, new works by seven artists and artist collaborators will be presented at different times and locations in the city. The programme also includes talks and screenings, as well as meetings between the public, the artists and other participants. In Deep Sites, the city emerges as a place where past and present, reflection and confrontation, common ground and spaces that normally lie more concealed are woven together. A place rich with potential and imagination, where new visions and political ideas and solutions developed in the past are (re)activated in the light of current challenges and ecological and economic crises.
The centre of Levanger, a thriving commercial hub as late as the 50s and 60s, is today subject to declining commercial activity. Many of the old shop premises are vacated and characterized by decay, and during the last few decades a certain melancholy has overtaken the place. Recently, Levanger´s many wooden buildings were placed under protection by the Directorate for Cultural Heritage in Norway, and the city centre is now considered a cultural environment of national interest, pursuant to the Norwegian Cultural Heritage Act. This seems to have brought back some optimism as to the future life of the small town.
In accordance with §2 of the Norwegian Cultural Heritage Act, the term 'cultural environment' is defined as 'any area where a monument or site forms part of a larger entity or context.' Thus, a cultural environment provides the context for its individual constituent entities. When such an environment consists of cultural monuments from different periods, one speaks of 'time-depth'. 'Deep Sites' refers to environments that have time-depth, but the term is also related to the 'Deep Web', sites that can't be accessed via conventional search methods.
In contemporary society, cultural heritage is produced based on economic, cultural or political objectives. At a time when history and cultural heritage are receiving considerable hype, the project aims to address the 'cultural environment of the centre of Levanger', both as a geographically defined area with a 'deep history' – layers of meaning and silences – and as an imaginary and agonistic space: the site when it becomes a piece of cultural heritage.
Programme:
Levels of Precarity,  Jesper Alvær, Vladan Jeremić and Rena Rädle in conversation with Marius Aasprong, 4 September at 7 p.m., Bar Moskus, Trondheim
Red Winter by Vladan Jeremić and Rena Rädle, An artistic intervention with speeches, banners and newspaper, Opening event Saturday 6 September, 12 noon – 13.15 pm the main square of Levanger, 6-20 Sept 10.00 am-19.00 pm
Artist talk: Vladan Jeremić and Rena Rädle in conversation with curator Anne-Gro Erikstad and screening of the films The Housing Question by Vladan Jeremić and Rena Rädle, and Konkret by Jesper Alvær, Saturday 6. September: 3 pm – 5 pm. Levanger City Hall, entrance Håkon den Godes gt.
The Silent Speaker – a Trilogy by Regina Maria Möller. Part One: The Curtain, Kirkegata 34, Levanger,  6-20 September

At Any Given Moment by Edvine Larssen (Note: Larssens piece is available by booking only, for one visitor at a time between Sep. 7 – 20 2014. Booking via the booking system. It is also possible to book via e-mail: atanygivenmoment.levanger@gmail.com or by calling +47 90834643. Public talk and finnissage at September 20, 17.30 p.m.
Sub City by Cathrine Dahl and Ørjan Aas, a poster project presented at Levanger city Hall, from 15 September. Sunrise and Ladder by the artists are presented fronting the website, and as the poster image for the overall project.
Levanger Kino Project by Levanger Kino group/Nomeda Urbonas, Festiviteten Kulturhus & Kino, Kirkegt. 18, Levanger, 19 September at 19.30 p.m.
Composition for Machine and Sculpture by Karianne Stensland, Levanger Stadium 19 September at 21.00 p.m.
RAKE – Emilie´s House Housewarming Party 19 September at 21.30 p.m.
Deep Sites Project Office, Levanger City Hall, entrance Håkon den Godes gt. , September 19, 11.00 am-17.00 pm  / September 20, 11.00- 15.00  Screening of the films The Housing Question, The Housing Agenda and Belleville by Vladan Jeremic and Rena Rädle and the film Concrete by Jesper Alvær.
For more information contact curator Anne-Gro Erikstad at +47 45636287
Thanks to:
Arild Bye, Morten Skaufel, Sivert Geir Løvås, Bymuseet i Levanger, Festiviteten Kino og Kulturhus, Levanger kommune; Bygg- og Eiendom, Kommunalteknikk og Drift og Anlegg, Levanger Museum, Coop Mega, Levanger, Per Anker Johansen
Graphic design: Joana Bruno